Getting caught out with a soft tire when you are nowhere near a gas station can be scary, especially at night. Luckily, a car air compressor can save you without any fuss.
Air compressors work by using an electric motor to force compressed air into whatever air tools are connected to the nozzle. In this case, the name of the game is tire inflation. Tire pressure is essential for safe driving and not something you want to dip during a long drive. Luckily, you can buy a specially made small compressor that is compact enough to carry around, but powerful enough to re-inflate all four tires.
We have found eight of the best air compressor electric models designed for maintaining the desired tire pressure everywhere you go, but that also go a little further in functionality and style.
What Features Does a Car Air Compressor Need?
Before we list eight of our favorite car air compressors, let's take a brief look at what criteria these machines have to meet. Make sure you pay attention to the following features when shopping for a compressor:
Easily Portable, Maintainable, and Storable
Stationary air compressors are heavy and large, which is not ideal for carrying around in your car. The best tire inflator is compact, lightweight, and easy to store away. Pick a simple design that slots into a discreet place in your car or garage without any trouble or strain.
Additionally, you want one with limited fuss. An oil-free pump, for example, requires much less maintenance and is a highly beneficial feature in any air compressor.
Since you are most likely going to use the power from your car's battery to power the air compressor, you want to go for a model with an efficient motor. In cold weather, some air compressors struggle to get going- not ideal if you get caught with a deflated tire! The best air compressors for cars use 120 Watt motors that can get things going quickly and easily without guzzling power.
Although the idea of a portable air compressor is to be compact, you still need the tank size to hold enough air to inflate tires. The best small air compressor tanks hold around two and a half gallons, although you can find a perfectly capable one-gallon air compressor that can handle plenty of tasks.
Larger tanks are not really necessary, as they become difficult to move around and store.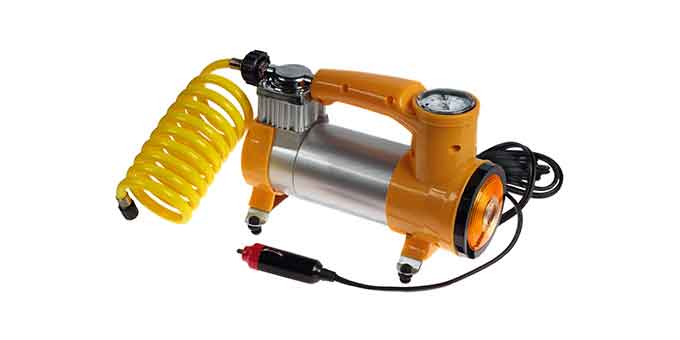 Always check the max PSI before buying an air compressor. This is the maximum working pressure the machine can safely operate at and it affects how quickly a job is doable and how efficient the work is.
Because we are talking about the best mini air compressor for portable use in cars, the max PSI does not need to be as high as when shopping for a pancake air compressor, for example. Around 100 PSI is a standard pressure level for a tire inflator.
Please note, most small-size air compressor models are not meant for use on heavy-duty truck tires as they do not have the same PSI limits as larger models.
Compatible with Various Pneumatic Tools
You want to know that your money is well spent, so you need a mini air compressor that does more than one thing. Inflating tires is not the only thing they come in handy for they can also be used for DIY projects, blowing up footballs, paint sprayers, or putting more air into bicycle or motorcycle tires.
Many tasks require specific extensions, such as a tire chuck, air hose, air sanders, or spray guns. Check the valve stem and nozzles to make sure you can use them for all the things you want to do.
Our Top 8 Best Portable Air Compressors for Use In a Car
AstroAI Tire Pump with Air Hose

The Astro AI is a 12-volt tire inflator that works as a multi-purpose tool for various tasks. It is a small air compressor weighing just over two pounds but packs a strong punch with its 120 Watt motor, reaching a maximum pressure of 100 PSI.
t has a convenient built-in handle for ease of use and stores away discreetly in a car or garage. Switch between three different power settings and multiple nozzles to adapt to whatever air tools you need to use. The LED light display makes controlling the air volume and tire pressure simpler than ever before.
Connect it to the cigarette lighter in your car and use it for up to 15 continuous minutes.
VacLife Car Air Compressor

This stylish air compressor is perfect for air suspension systems on small cars and anything on two wheels. It is a little heavier than many of the other compressors on our list (at around two and a half pounds), but the performance justifies it comfortably.
LED lights and a smart drain valve add to the convenience of this portable air compressor. You can buy it on Amazon with free delivery.
HAUSBELL Portable Air Compressor for Car Tires

The HAUSBELL air compressor weighs just under two pounds, making it an ideal model to keep in the car. It includes three-meter power cords and a variety of nozzles compatible with all California air tools. One of our favorite features is the handy emergency LED work light, which ensures you never get caught out.
With ultra-fast inflation, filling tires at 35 liters per minute, this electric air compressor does not mess around.
EP Auto Portable Hot Dog Air Compressor

The EP Auto is one of the lightest on our list, weighing just one pound! It has a heavy-duty hot dog style construction with rubber feet for extra support. Unlike most air compressors on this list, this model is powered by AAA batteries with a backup fuse, but it can also plug directly into a cigarette lighter. The battery function is handy for modern vehicles that do not have a lighter feature.
With a maximum PSI of 70, this mini air compressor is more than capable of pumping up low tire pressure on small cars, motorbikes, and bicycles, but it is not suitable for truck tires.
Head to Amazon where you can buy your own!
TEROMAS Tire Inflator and Portable Air Pump

TEROMAS makes a very impressive- if a little heavy- portable air pump. In just a few minutes, it can have your car tires fully inflated and ready to go, not to mention the many other tasks it handles with ease.
Standout features include industrial air pressure of up to 150 PSI- the highest on our list- and an advanced display that is bright enough even on a sunny day.
TEROMAS is one of the more expensive entries. However, it offers the added flexibility of a 110 volt AC wall socket adapter for use in the home. This is included in the price.
Avid Power Portable Air Compressor for Car

This compact industrial air pump is a thing of beauty, and one of the highest-rated according to customer reviews. It reaches up to 125 PSI but has adaptable settings to suit each task and tire. In many people's eyes, this is the best air compressor out there, but it is a little bit heavy compared to other portable car compressor designs- it weighs almost six pounds!
What makes the Avid Power model stand out is the deflation mode and additional hose, making it an all-around more flexible tool. It also comes with multiple nozzle adapters and a high-pressure hose for further diverse uses.
The Avid Power model is the most expensive compressor on our list.
Prow Portable Electric Pump for Cars

Prow has created a truly unique and classy electric air pump that gives the competition a serious run for its money. The DC and AC connectors make it suitable for indoor or outdoor use, along with a unique analog display and carry case that makes it stand out.
At 4.16 pounds, it is the second heaviest model on our list, and it is also the second most expensive.
The best air compressor for your car really comes down to personal preference, but the following key features should be a priority:
How easy is it to carry around in your car?
How reliable is the air pressure?
Does it work compatibly with your tire type?
Is it capable of filling all your tires?


The weight and size also play a part, but nothing quite matches the importance of power. All eight of these models qualify as excellent choices. Head to Amazon to find out more about the individual products.